Today we'll talk about the parathyroid glands, the under appreciated but still important little brothers of the thyroid gland. "Para" means "around" in Latin, so it makes sense that the parathyroids are located around the thyroid gland. Even though the names are similar, these two glands make different hormones that do very different things.
The parathyroid glands make one specific hormone, called parathyroid hormone, also known as PTH. PTH acts to increase the level of calcium in your blood stream. It does this by a variety of mechanisms- ordering the bones to release calcium and ordering the kidneys to hold onto calcium, among other things.
There are a total of 4 parathyroid glands, 2 on each side. They are located in variable anatomic positions, but most commonly they are behind the thyroid gland hanging out in the surrounding fat and loose connective tissue.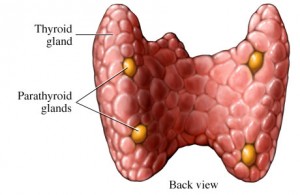 One or more of the parathyroids can be in a variant position, usually either lower in the neck, down in the chest under the sternum, or even encased inside the thyroid gland. All of these are relatively uncommon, but added together, there are roughly 10% of people with at least one parathyroid in an unusual place.
So what can go wrong with your parathyroids? Basically, there are two problems: either they are making too much hormone (hyperparathyroidism) or not enough (hypoparathyroidism).
Because there are 4 glands (i.e. a lot of redundancy in the system), hypoparathyroidism is exceedingly rare except as a complication of thyroid or other neck surgery when all four glands are damaged or removed.
Hyperparathyroidism is a much more common problem. In this condition, one or more of the parathyroid glands is making too much PTH. This causes elevated calcium levels in the blood and can cause a variety of symptoms including bone/joint pain, kidney stones, and irritability/mood swings.
There are two main categories of hyperparathyroidism. The first is called primary hyperparathyroidism, and is when one or more of the glands goes haywire and starts making too much PTH. The second type is called secondary hyperparathyroidism, and is caused by chronic kidney failure. The failed kidneys are unable to maintain proper calcium balance in the blood, and thus the parathyroids are making tons of PTH to try and keep up. (You may read about so-called tertiary hyperparathyroidism: this is the same condition as secondary, but is irreversible even after treatment of the kidney issue).
Primary hyperparathyroidism is caused 80-90% of the time by a benign tumor (called an adenoma) in one of the 4 glands. 10-20% of the time, all four glands are enlarged (called hyperplasia) and producing too much hormone. Rarely, there are multiple adenomas and even more rarely there is a cancer in one of the parathyroids.
In secondary and tertiary hyperparathyroidism, all four glands are typically enlarged, similar to patients with hyperplasia as discussed in the paragraph above.
In next week's post, we'll talk about how the different types of hyperparathyroidism are diagnosed and treated.